Back to overview
Nathalie's story: "Why pay someone to do something when you can do it yourself?"
Nathalie created her dream wardrobes
Our bespoke furniture configuration tool gives you free reign to your creativity. This is how Nathalie designed and installed her dream wall unit. She combined high black cupboards with a black chest of drawers in a wall unit with a modern and serene appearance. We asked her about her experience.
How did you find out about Maatkasten Online?
"I came across Maatkasten Online while I was searching for affordable and stylish fitted furniture for my work space in our house. I first went to a firm specialising in interior design and fitted furniture. I already knew exactly what I wanted, and I'd got quite far with the design process. I'd talked to them on various occasions about the layout and the materials, but they'd never given me a price. It was only during our last meeting that they gave me a quote and it was totally out of the range of the budget I had in mind. That was a shame for both me and them as we'd invested so much time into this.
It's all different with Maatkasten Online. You can completely plan your wall unit, you immediately know the price at each step of the way and you know precisely when it will be delivered. For me, this was what ultimately convinced me to choose Maatkasten Online."
How was the ordering process?
"Since I was still thinking about the extremely high price quoted to me by the joinery firm, all of the prices on Maatkasten Online seemed to be reasonable. That's why I didn't need to think too much about it, and everything went really quickly after that. Just to double check the finish, I ordered the free colour samples. I knew exactly what I wanted, entered everything into the configuration tool, chose the materials and as soon as I saw the colour samples up close, I made up my mind and we placed an order almost immediately.
The design tool is extremely user-friendly. It's very easy to go through the steps and Maatkasten Online does the rest. You only need to know what you want, then you can do everything really quickly."
Did you use the measuring service?
"We measured everything ourselves. We had a laser measure, so we could be perfectly accurate. We followed the instructions on the website, so we measured from floor to the ceiling, and from wall to wall, etc. The materials that were delivered were really precise, and accurate down to the millimetre."
Have you thought up or sketched out the nice design? Did you start from a mood board, Pinterest or sketch that you like?
"I've been interested in interior design for years and I've devoured various magazines and books about interior projects. We've had our home for a couple of years which meant that I knew perfectly how it had to look, what I liked in materials and styles, and what I needed for my freelance work. I admit, we had to give up a few of our requirements, but we soon forgot about those when we saw the price once we'd done the configuration. It was so different to the quotes we'd been given."
"I'd even sketched out the plans on a sheet of paper, as our project is actually a combination of a regular tallboy and a chest of drawers. I thought about the best way to enter this in the various modules on the configuration tool and I included this information with the order. After I'd placed my order, I got in touch with the Customer Service department at Maatkasten Online to give them more information about our project and I asked them whether they wanted to check my plans on paper with the details I had entered in the various modules. Everything seemed to tally and nothing else needed to be changed on my order.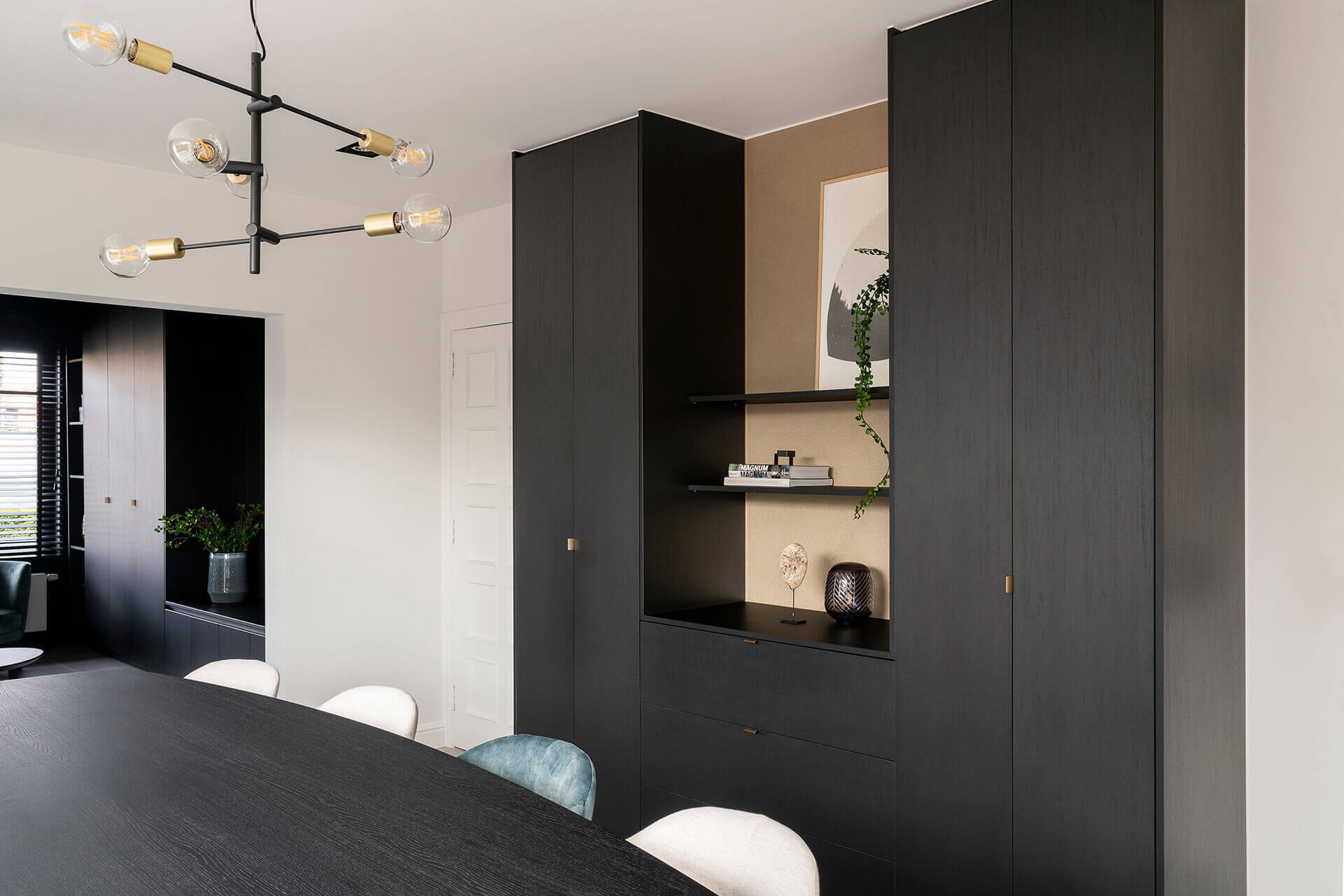 How did you find the assembly of the cabinets?
"It all went very smoothly. The person who delivered the cabinet gave us a tip to first sort all the components and then start work. This probably saved us a lot of time and frustration. Once we'd sorted everything using the labels Maatkasten Online had stuck to each component, I took a look at the instructions that came with the delivery. Only then did we get started. Good preparation naturally makes a world of difference.
We spent the entire weekend putting everything together and making adjustments with the infill panels. But even professionals would spend time on such work so I thought that it all went very well. I don't like to pay for things that I can do myself and with Maatkasten Online you can save a lot of money this way. Everything is made to measure and all you have to do is just assemble it. Very handy indeed. We've recommended Maatkasten Online to various friends."
How did you find the service?
"The service was incredibly smooth. They gave me rapid feedback to my questions, and everything went well. As far as the handles are concerned, we thought that we should use two of them for a double door, but it turned out we only needed one of them. The drawers arrived shortly after they'd delivered the cabinets (they let us know in advance that these would be sent later), which meant that it didn't take us long to finish the job.
I wanted to put shelves against the wall in one of our cabinets. This is something that you can't enter in the configuration tool, so Maatkasten Online were unable to supply it. I asked them if they could also supply two shelves in the same material and I said that we would work out how to attach these. This was no problem at all. I even got those two shelves at no extra charge, which is naturally an amazing service. We were able to fit the shelves in the cabinet and the result is just fantastic, at least, I think so :-)."
What do you think about the quality?
"The quality is great. Everything fits together firmly, the rear panels are not simply made from board, the cabinet has a sturdy base and even the drawers slide smoothly in and out. Of course, it's a pity that the children's finger marks show up easily on the black surface, but this probably has nothing to do with the actual material. We get lots of compliments. Everyone is impressed by the way that it neatly dovetails with the ceiling and the walls. We had a friend come round last weekend who is a project manager. He's in charge of exclusive projects for a well-known architect, and even he was amazed by the quality, look and finish. The price they quoted for bespoke work was a lot higher than what we actually paid."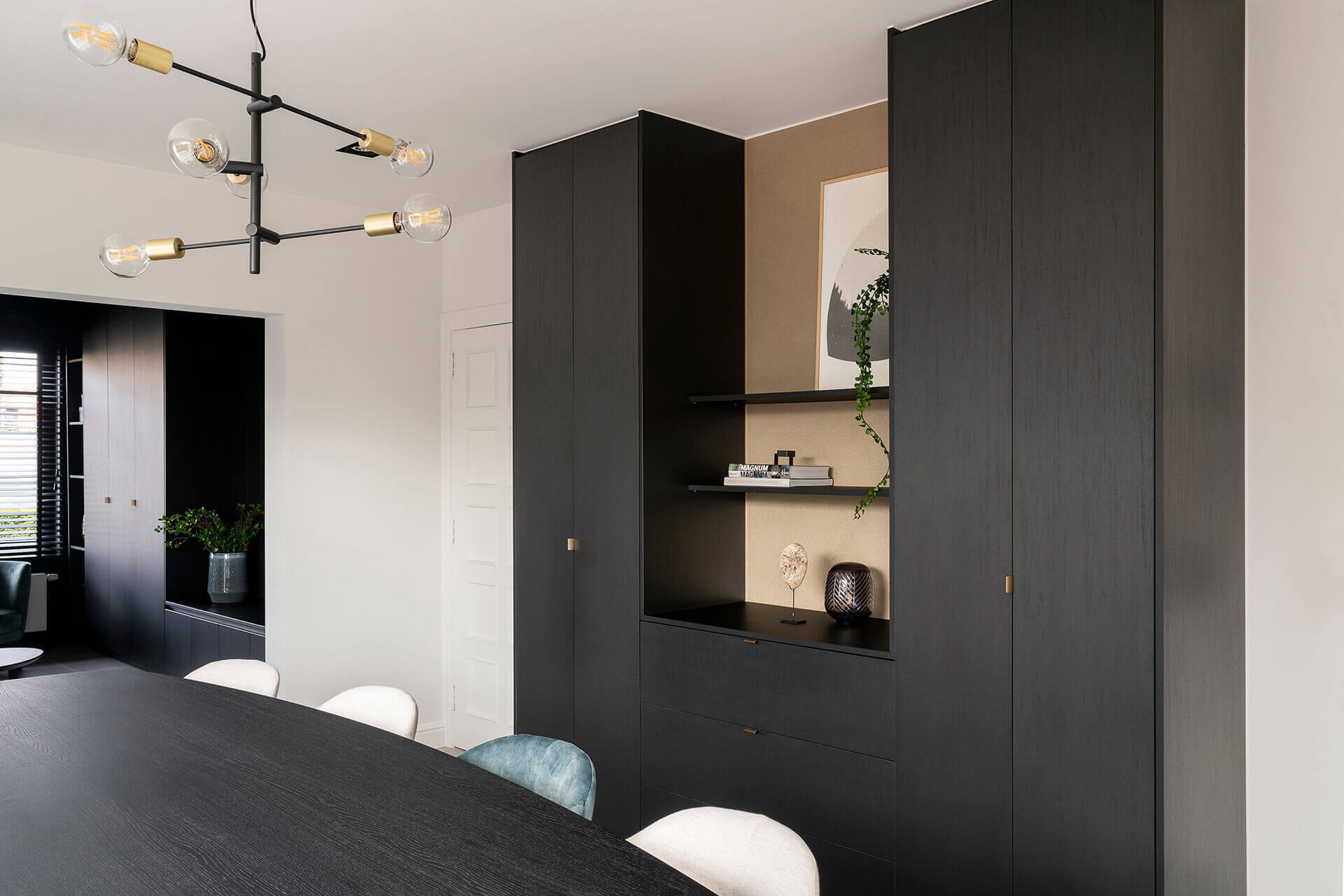 Is the result exactly what you expected?
"The result is completely what I'd expected and in fact, it's even better. The sizes were so accurate that it is effectively a made-to-measure cabinet. I'm really pleased that we have been able to assemble cabinets for that price and you can't tell that we put them together ourselves. Amazing!"