We have to admit it: we absolutely love our two green finishes. Also, among our customers, the soft Industrial Green and slightly darker Green Shadow are clearly proving very popular. Not surprising really, knowing that green in the home has both a calming and invigorating effect. How to use this unique colour in your interior? Get inspired by some realisations.
The effect of green on your interior
Green is undoubtedly the colour of nature. Because it subconsciously reminds us of vast moorlands or exotic jungles, it actually relaxes us. By using green in your interior, you bring nature into your home. Besides its relaxing effect, green is also said to make us more motivated and creative. The psychology of the colour entirely aside, green is a colour that simply pairs well with numerous other colours, materials and styles.
For a calming look: combine with natural elements
By going back to nature not only in colour, but also in your choice of materials, you create an oasis of calm. Both Industrial Green and Green Shadow work well in combination with woody materials, such as parquet or laminate flooring, rattan chairs, wicker baskets, a jute carpet, a bouquet of pampas grass or dried palm leaves on the wall. Even in rooms with tiled floors, a travertine coffee table, marble worktop or natural stone splashback, a touch of green works wonders.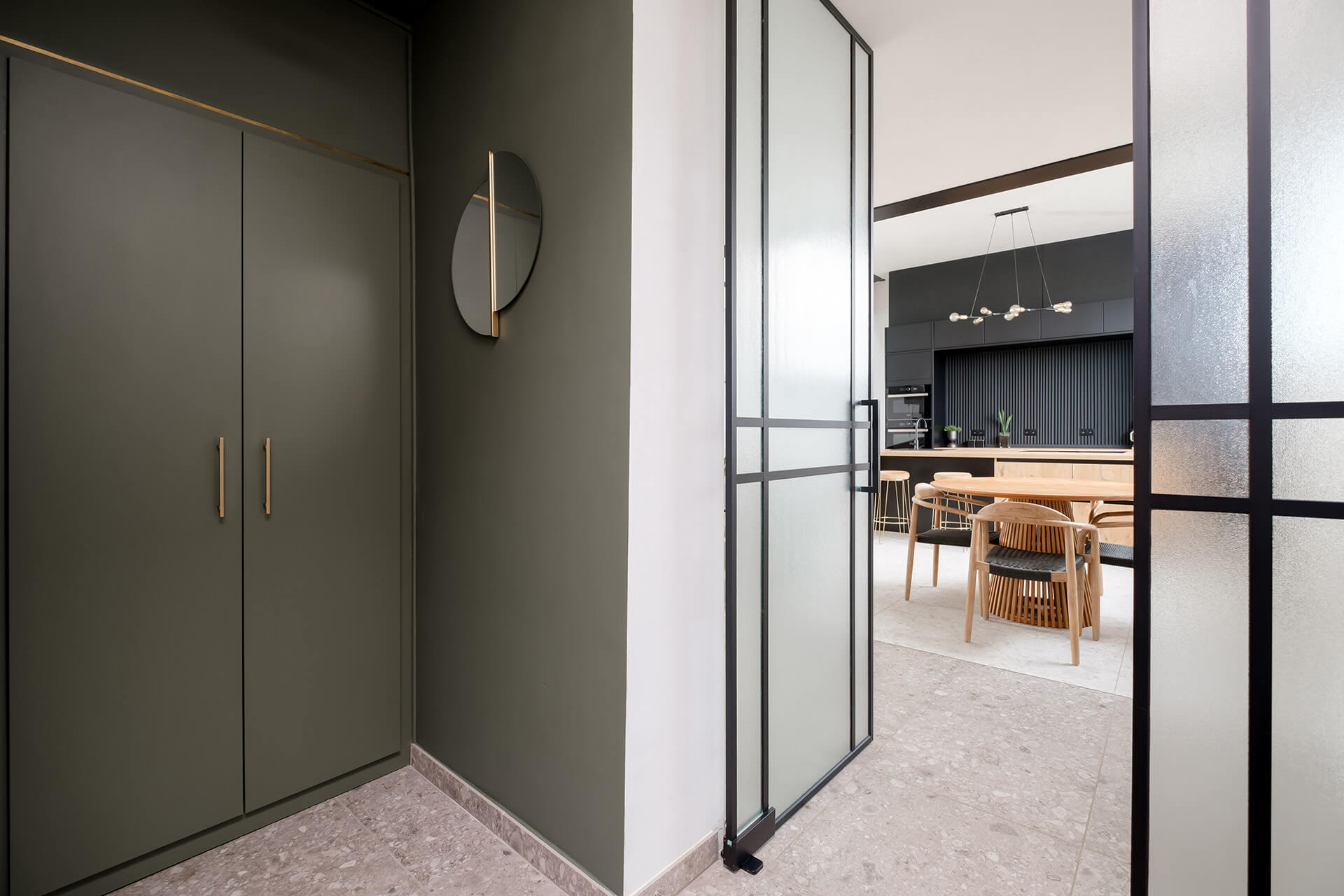 Make your bespoke wardrobe luxurious by combining with brass
Green is also the colour of luxury and comfort, and when combined with the right materials, it can actually feel very luxurious. Finish your made-to-measure cupboard with a black or brass handle for an elegant look, such as our Diamond, Monument or Pure handles. Our Leather loop even comes in bronze. Decorate the space around the bespoke cabinet with brass or bronze accessories for a radiant overall look.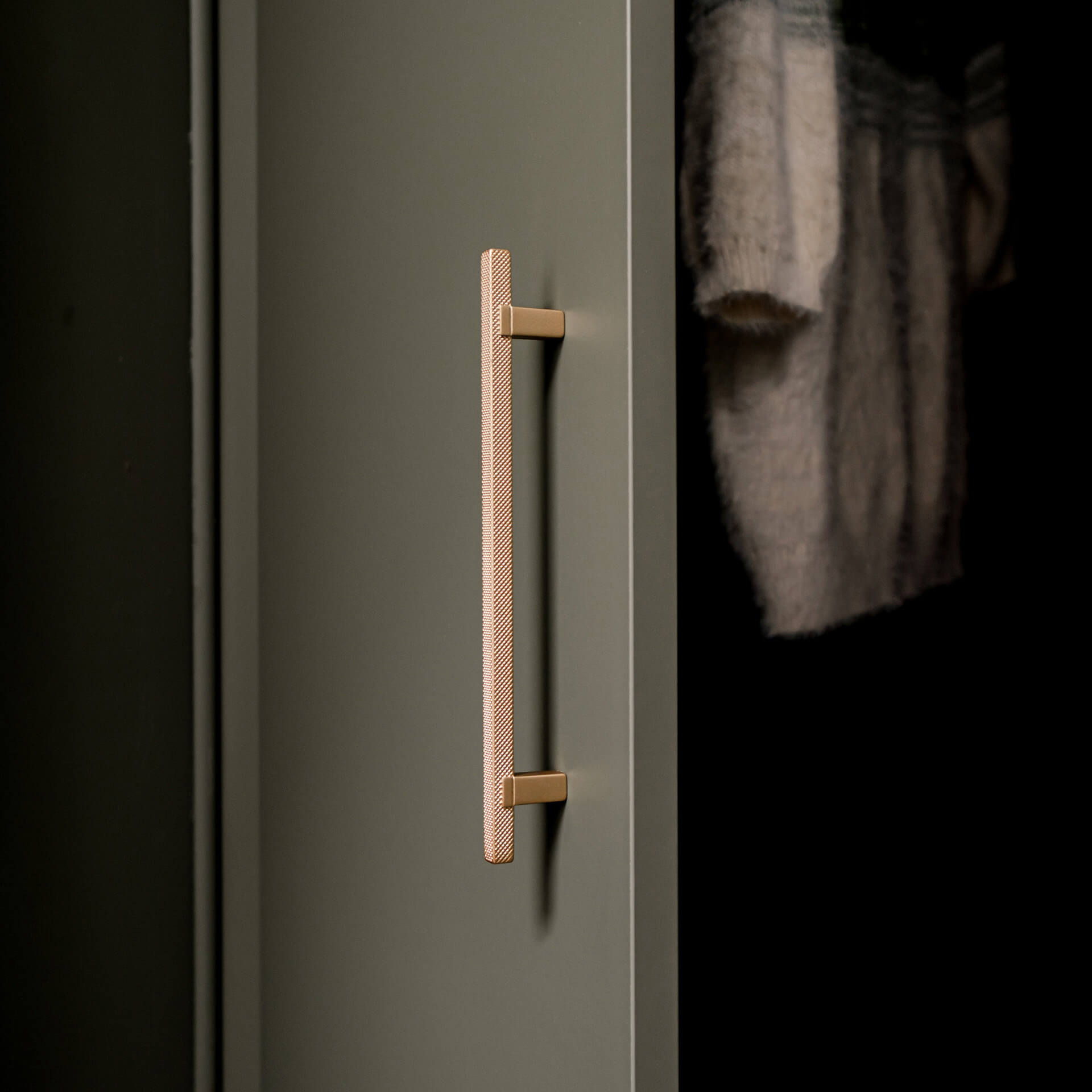 Go for a minimalist made-to-measure wardrobe
Looking for a subtle touch of colour for a serene and neutral interior starring black and white? With a dresser in Green Shadow or built-in cupboard in Industrial Green, you add a colourful yet minimalist touch in both classic and modern monochrome settings. For an extra minimalist look, by the way, opt for push-to-open drawers and handleless cupboard doors.
Or go for a surprising look
For an exotic and cheerful effect, combine green with warm colours, such as ochre yellow, soft pink or our Dusty Coral finish. Another creative idea, as in this interior, is to dip only the inside green and finish the outside in a neutral shade, such as Seashell or Turtle Grey. Talk about a surprising touch of colour.
So what is best to consider?
Our two green finishes work well in almost any room: in your bedroom, a wardrobe in Green Shadow radiates tranquillity, while a hallway cupboard in Industrial Green gives your entrance hall an extra dimension.
We recommend not making small rooms too dark and opting for the lighter Industrial Green, possibly in combination with a few panels in Atlas Oak or Seashell. Conversely, you can avoid a dull look by choosing characterful and contrasting handles, such as the Tonton in cheerful pastel colours.
Design your dream wardrobe in beautiful green now!
In our made-to-measure wardrobe configurator, put together the dressing room or chest of drawers of your dreams. Good luck!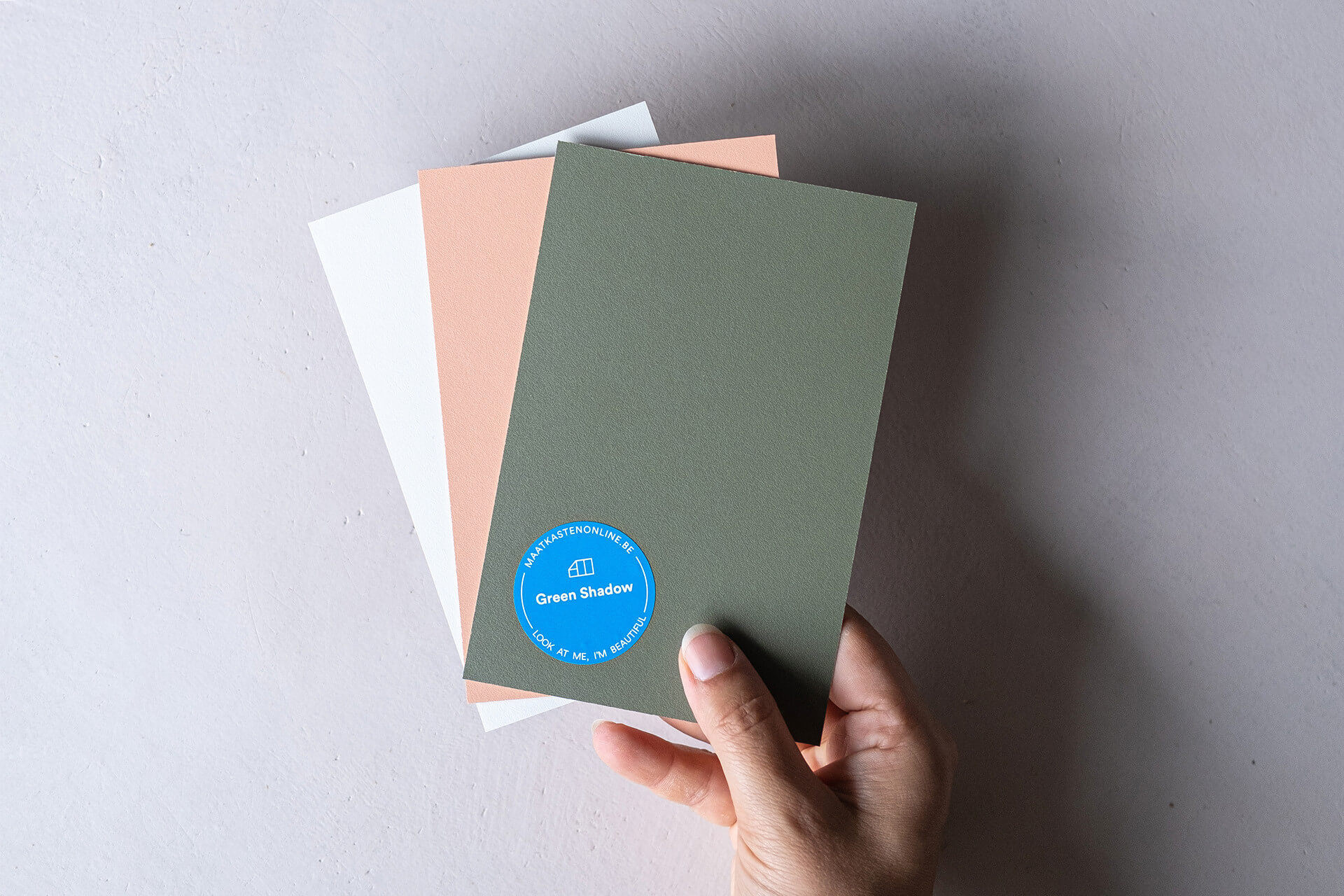 Request free colour samples
Want to see for yourself how well Industrial Green or Green Shadow matches your interior? Order your free colour samples and start comparing at home, or request our measurement service where our expert will advise and inspire you.