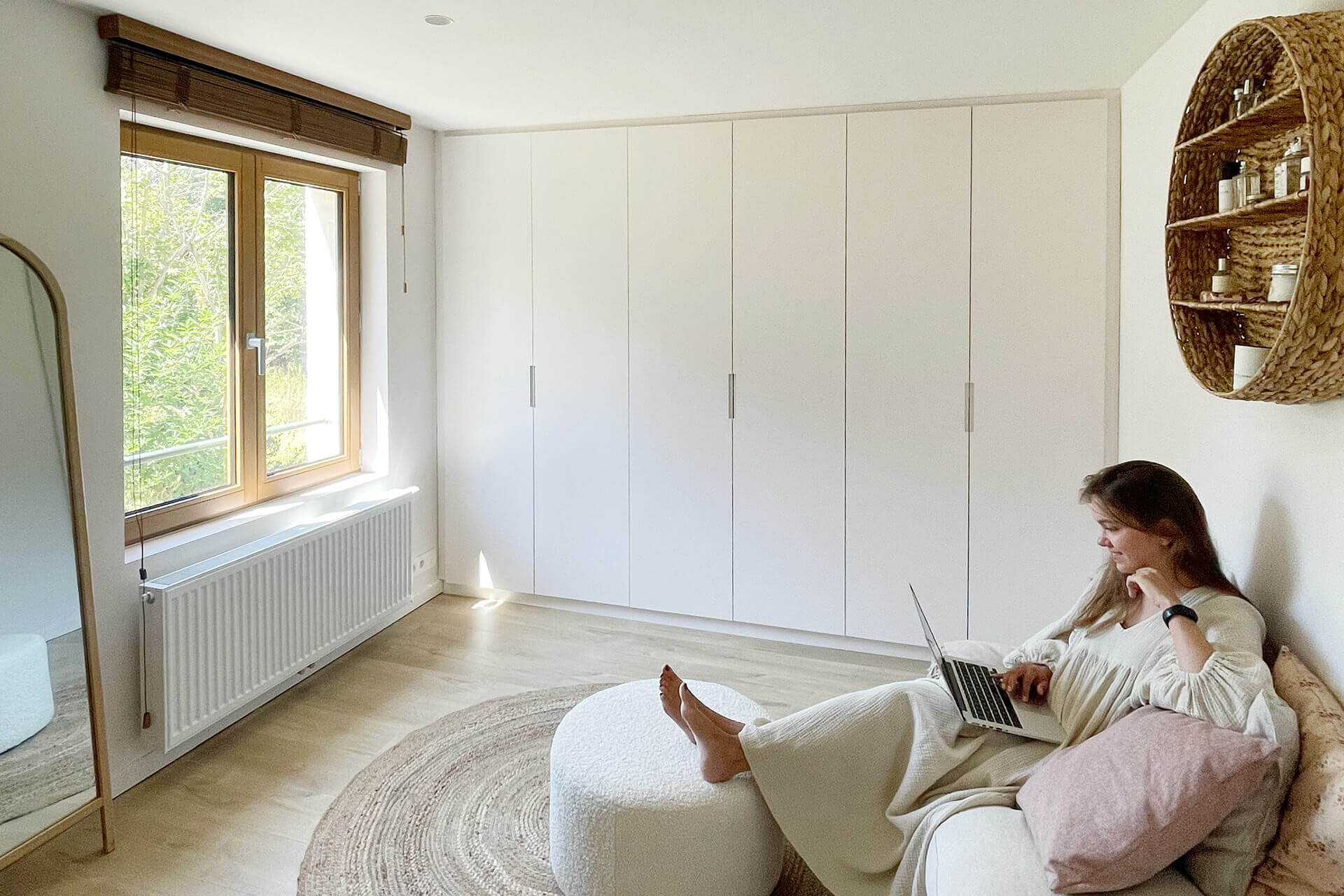 When we dreamed about our future home, high on our wish list was a separate room for each of us. We'd lived in a one-bedroom flat in the past, which had just a living room, bedroom and bathroom. There was little room for a personal space. I realised, particularly during the lockdowns, how important it was to be able to close the door of my home office. I also realised how important it is to have a room that I can make 100% mine.
Multifunctional room
When we bought our house last year and we got the chance to organise our upstairs, we soon decided to make three separate rooms. One for our bedroom, one for his 'atelier' and one for mine. My 'atelier' soon became a dumping ground for boxes and all of my clothes. When we moved in, the clutter made me hate this room. At the time, I decided it would be handy to have my wardrobe in there instead of in our bedroom. But I couldn't see past the clutter to decide what I wanted to do with the room.
Now, around seven months later, I have successfully organised this room into a cosy hangout. It's a truly multifunctional room as it's both my home office and my dressing room and a guest room, but that's actually one of the things I like so much about it. I often come here to sit and admire the trees outside and allow the Zen vibe wash over me!
Mood board
A mood board is one of my keys to success when it comes to interior design. First, I like to plan the vibe of a room using inspiring ideas that I find on Pinterest and Instagram. I then use this to analyse which colours, shapes and textures go best in the room. Only then will I look for the right items. When I see something I like, I pin it to a Pinterest board. To take the best decisions and see whether the things that I choose go well together, I also recreate the room in Photoshop. This is extra work, but it really helps me to see whether the colours and shapes go well together.
Built-in cupboards
When I realised that I also wanted to use the space as a dressing room, it was time to look for wardrobes. I thought about getting a separate wardrobe because it's easier to move and I could change it, but I also wanted a lot of space for storing clothes and other things, so I needed something large. I'd heard about Maatkasten Online, a local company that makes fitted storage cupboards that you can install yourself.
Why I chose Maatkasten Online:


You can design the cupboards yourself in the comfort of your home using the 3D tool on their website. This is wonderful if you get stressed about picking out something in a shop, or if you want to take the time to make up your mind.
But they don't just leave you to fend for yourself. The company is very approachable and you can depend on them for personalised advice, answers to your questions and they even come to measure up the room for you and give you tips and tricks.
They have a lot of colours (both for the inside and outside), knobs and handles to choose from. You can completely personalise everything to suit your taste!
Their prices are very reasonable for something that is made to measure and such high quality, especially when you keep an eye out for their seasonal discounts and promotions.
The company delivers quickly on the agreed date which is a luxury these days.
They deliver the cabinets themselves, so they call you when they're on the way, and the driver even helps you to bring the boxes inside. He also gave us tips on the best way to install the furniture. I love the personal touch and this does give me a feeling of confidence.
The cabinets were easy to install. I think it only took us half a day in total!
They are a young company based in the town where I live, Maldegem, which is always a plus! :)
The result
I ultimately chose a fully wall-mounted cabinet with grooved handles. I chose the colour Seashell for the inside and paintable MDF for the front areas. This meant we could paint it the same colour as the bedroom walls (blush white) which makes the room look more spacious and brighter. (Although I absolutely love the Lorenzo Walnut colour, but that would make the room too dark and give it too much of a wood look. This is maybe something for the future!)