White and off-white (Seashell) are still the absolute favorites when it comes to color choices for cabinets. With their neutral appearance, they seamlessly complement the walls without standing out too much. But who says the inside of a cabinet always has to be plain? In this home, they opted for playful and surprising interior colors. Let yourself be inspired!
The guest bedroom: Green Shadow
Welcome to the guest bedroom, where plenty of practical storage space is provided. Be surprised by the stylish Green Shadow interior. They truly went the extra mile to welcome guests in style.
Do you love this color combination? Be sure to request your free color samples and see the colors in your own home.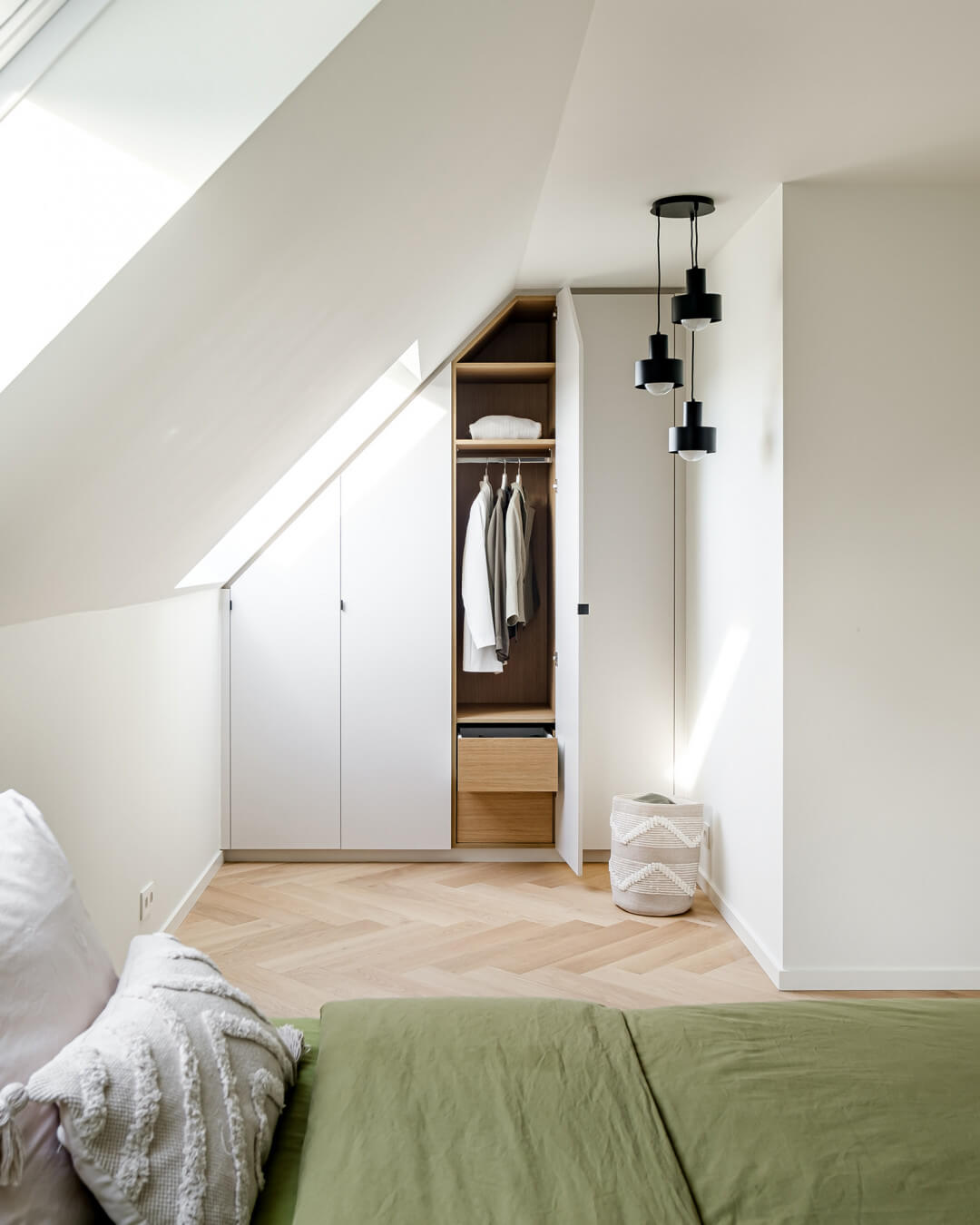 Master bedroom: Natural Essential Oak
Custom cabinets were installed on both sides of the master bedroom. Despite the sloping roof construction, no compromise was made regarding available storage space. These cabinets were precisely tailored to make optimal use of every millimeter. On the outside, they once again chose the even-colored Seashell finish, which gives a calm and timeless look to the room. On the inside, the warm wood texture of Essential Oak Natural provides a pleasant surprise. Whether you opt for a solid color or a wood finish on the inside, the addition of color never fails to make an impact and adds a fun twist to the cabinets.
The children's room: Dusty Coral
The dressing cabinet in the children's room received a cheerful touch of pink. There's no doubt that this is a girl's room, thanks to the vibrant Dusty Coral accent. With the closely fitted cabinet doors, the exterior will never reveal the colorful secrets of the interior.
Give your own cabinet a personal touch and make your custom cabinet even more unique by choosing a colorful interior. Do you prefer a neutral color or something more eye-catching? You're the designer! Let your imagination run wild and design your custom cabinet in the configurator.
Steep, Steeper, Steepest
By incorporating a custom cabinet under a sloping side, you save a lot of space. Whether there's a sloping side on the left, right, both sides, or at the back, you can easily design it yourself using the convenient 3D tool. And all of this is completely tailored to the millimeter!
Mix and Match
Want to make it even more adventurous? No problem! You can even combine different colors. Did you know that you can change the color of each module individually? In step 4, you can click on the color wheel below the cabinet module and adjust the color of each module separately. We're incredibly curious about your creation! Bring it on!
Free color samples
Can't wait to test which color combinations work well in your home? Request your free color samples now!
Prefer assistance from an interior expert? Request a measurement service and get personalized advice at home.